Confetti Rentals was established in 2003 and has helped Central Texas brides design love stories ever since! Confetti is located in Central Texas and serves Belton, Temple, Salado, Waco, Harker Heights, Killeen, Ft. Hood, Georgetown, and surrounding areas.
Their team of talented designers is style-conscious and work with you one-on-one while guiding you through the process. The best part? They can tailor your event rentals to your individual budget and style.
"At Confetti Rentals, we consider ourselves purveyors of pretty...collectors of the classics and the curious, unabashed hoarders and delighters in good design. And with over 17 years in the event industry, you could say we rock it! "The perfect event never just happens," Chris has been known to say. Pulling off perfectly planned and stunning events is simple...said no one ever. Until now. "Confetti does it all...we design it, clean it, count it, pack it, load it, deliver it and install it...so you can look pretty! Our designers help create something so special and on budget that your guests will be talking about your wedding for years to come!"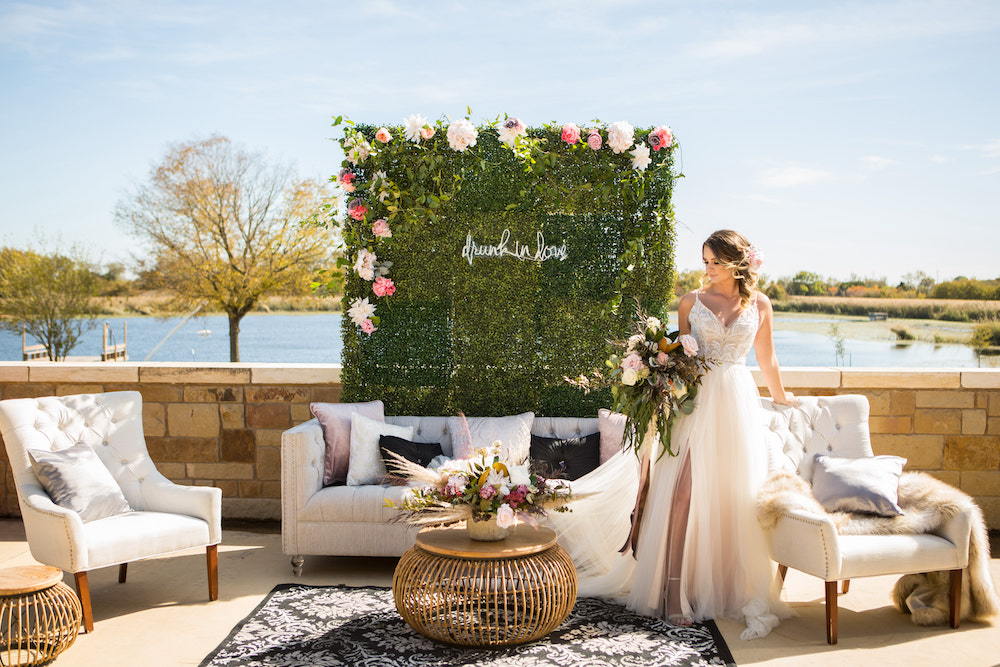 Photo: Shelly Taylor Photography
"Confetti Rentals transformed my parent's home and backyard. They took all the original plans for our wedding and fit them into a space they had never seen! Confetti even purchased specific pieces that matched the theme of my wedding. I could not be more pleased and thankful!" - Caroline
Photos: Neva Michelle Photography | Davello Photography | Bear Moose & Fox
Photo: Shelly Taylor Photography
"Confetti Rentals has been planning our family events for years. When I got engaged my mom and I knew who to call first. For us, there was no one else that could have taken our vision and made it a production. Chris and her team have the ability to make any dream become a reality." - Mickaya
Photos: Neva Michelle Photography | Shelly Taylor Photography | Bear Moose & Fox
Photo: Shelly Taylor Photography
"Chris, with Confetti Rentals, went above and beyond and was able to make our dream wedding a reality. After the initial planning meeting, I completely changed my color scheme and overall design. Crazy, I know! Chris, the owner, had me come back for an extra meeting and we completely redesigned everything from the place settings and centerpieces to the cake table and photo booth backdrop. She was able to incorporate all of my personal decor and ideas, as well my favorite item, the cotton from the Beckhusen's family farm." - Brittany
Photos: Bear Moose & Fox | Bear Moose & Fox | Madi Wagner Photography
Photo: Neva Michelle Photography
"Chris was so much fun to work with!! she made everything low-key, exciting, and fun. the whole process with confetti was really easy and they were very organized." - Emma
Photos: Bear Moose & Fox | Kate Panza Photography | Alyssa Simmons Photography
Photo: Shelly Taylor Photography
"Confetti Rentals went above and beyond what I paid for in a rental company. The efficiency to detail, productiveness, and organization this established possesses had me concentrating more on my special day and less on the stress of setting up. I will definitely use them again!" - Samantha
Photos: Madi Wagner Photography | Alyssa Simmons Photography | A&E Photography
Photo: Neva Michelle Photography
"Our experience with Confetti Rentals was great! They are affordable, unique, and had tons of rental options to choose from. Confetti Rentals was very professional during all interactions and helped us make our wedding look simply stunning!" - Ashley
Photos: Bear Moose & Fox | Shelly Taylor Photography | Steph & Chris Photography
Photo: Neva Michelle Photography
"The décor was so elegant and beautiful! They were very helpful, and their professional suggestions were greatly appreciated. They went above and beyond to put everything together perfectly!" - Maricruz
Photos: Jade & Kyle Photography | Hip Pixel Photography | Neva Michelle Photography
Photo: Alyssa Simmons Photography
"Confetti rentals had everything I needed to make the evening beautiful. I didn't have to worry about trying to source my own unique items, because they had everything I wanted and more at Confetti. Their coordinator was really able to take your vision and bring it to life, and the setup and takedown made the day a breeze." - Taryn
Photos: Davello Photography | Honey & Wildfire Photography | San Angel Photography
Photo: Steph & Chris Photography
"Chris at Confetti's Rentals was amazing to work with. They work closely with my wedding coordinator Karla McNeil to ensure that all rentals were perfect. From linens to furniture Kris, was absolutely wonderful. Her staff is amazing! Confetti Rentals is truly the best." - Kelsey
Photos: Bear Moose & Fox | Neva Michelle Photography | Bear Moose & Fox