La Rio Mansion features luxurious, elegant Spanish-style architecture, immaculate landscaping, and a breathtaking backdrop of 37 acres of rich fields backed by the Leon River and sprawling oak trees.
"Our mission is to provide brides and their families with a luxurious, timeless space characterized by romantic archways, idyllic gardens, and an exquisite view setting the stage for a truly unforgettable wedding day."
Couples may choose to say their vows in one of two romantic locations: Under the vast oak trees at the front of the property or looking out over the rich fields towards the Leon River. La Rio Mansion also features a luxurious outdoor reception space overlooking lush fields, magically lit with draped cafe lighting, and fully furnished with fruitwood chivari chairs and round guest tables for up to 250 guests. Looking for an indoor option? La Rio Mansion also features an air-conditioned 5,000sq ft ballroom with up to 350 guests seated capacity.
La Rio Mansion was founded on the idea of a fabulous center for gorgeous open-air affairs, alfresco events, and magical, fairytale, romantic weddings under the stars that families will remember for generations to come.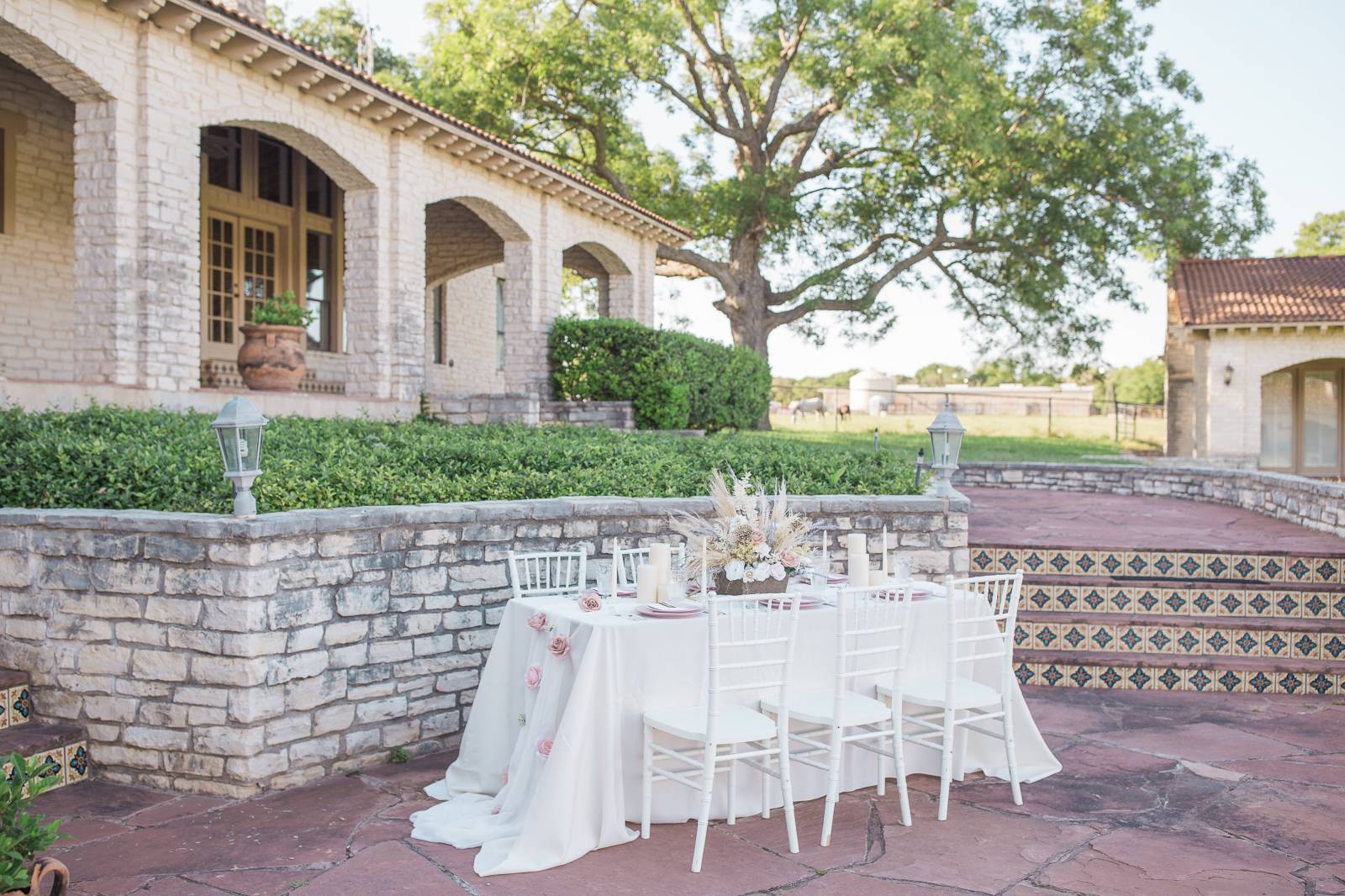 Photo: Kayla Sellers Photography
Photos : Bear Moose & Fox | Neva Michelle Photography | Mint Photography
Photo: Rachel Whyte Photography
Photos: Mint Photography | Jenna McElroy Photography | Bear Moose & Fox
"I chose the La Rio Mansion as my venue, what can I say about Lilly Halabi, except she is the best!! Lilly was there from the moment I started to plan my wedding, tours of the venue, the cakes, making the mansion available for my bridal photo session. The choices you have at the La Rio Mansion are endless, inside or outside events. Several areas to choose from for the ceremony, huge bridal suite and groom's area. The option to be able to stay at the venue. The choices are endless with the La Rio Mansion. It is beautiful! I can't thank Lilly enough for all she did for me, she is a lifelong friend!" - Sarah
Photos: Bear Moose & Fox | Kayla Sellers Photography
Photo: Robin Rogers Photography
Photos: Kayla Sellers Photography | Bear Moose & Fox | Mint Photography
Photo: Jessica Chandler Photography
Photos: Kayla Sellers Photography | Bear Moose & Fox
Photo: Kayla Sellers Photography
"La Rio Mansion is a beautiful place in Belton, TX. The venue holds many areas for the ceremony and the inside reception area is beautiful and spacious! The mansion itself, is very castle like and my guests could not stop talking about the tiled steps on the outside! I love this venue." - Raven
Photos: Kayla Sellers Photography
Photo: Kayla Sellers Photography
Photos: Neva Michelle Photography | Kayla Sellers Photography
Photo: Neva Michelle Photography
"La Rio Mansion is an incredibly beautiful venue, there could not have been a more perfect place to have our reception. Lily, the owner, is amazing and will go the extra mile to make your day truly special. The back patio area was perfect for our cocktail hour and the ballroom was spacious enough to comfortably fit all of our guests and still have room for a dance floor." - Morgan
Photos: Bear Moose & Fox | Neva Michelle Photography | Robin Rogers Photography
Photo: Neva Michelle Photography
Photos: Bear Moose & Fox | Rachel Whyte Photography
Photo: Robin Rogers Photography